Before Shanghai Disneyland opened its gates to the masses on June 16, Chairman Bob Iger stated that the $5.5 billion park would have a "distinctly Chinese" feel. "We didn't build Disneyland in China, we built China's Disneyland," he said ahead of the big day.
Now the big party to celebrate Shanghai Disneyland is over, but Disney's biggest challenge in China has just begun. The opening of the theme park is the official starter's pistol in a race to become the "Disney of China". In many other industries, the winner in China has already been clearly defined: Baidu is the "Google of China", China Mobile is the "Verizon of China", WeChat is the Whatsapp/Facebook of China, and the list continues…
But the question remains: can Disney actually win big in China? Can it match its U.S. success as an entertainment company that combines beloved children's movies and real estate? We don't know the answer yet but one thing is sure: they will need to move fast. And they will need to recognize that they are at the intersection of three big Chinese forces: rising consumers, an activist government and ruthless local competitors.
Disney has indeed a window of time before local competitors grow stronger and before the Chinese government no longer needs Disney's expertise. Thus in this period of time, Disney has to capture the hearts and minds of Chinese urban families as fast as possible. That is likely to be their only real protection for the long term.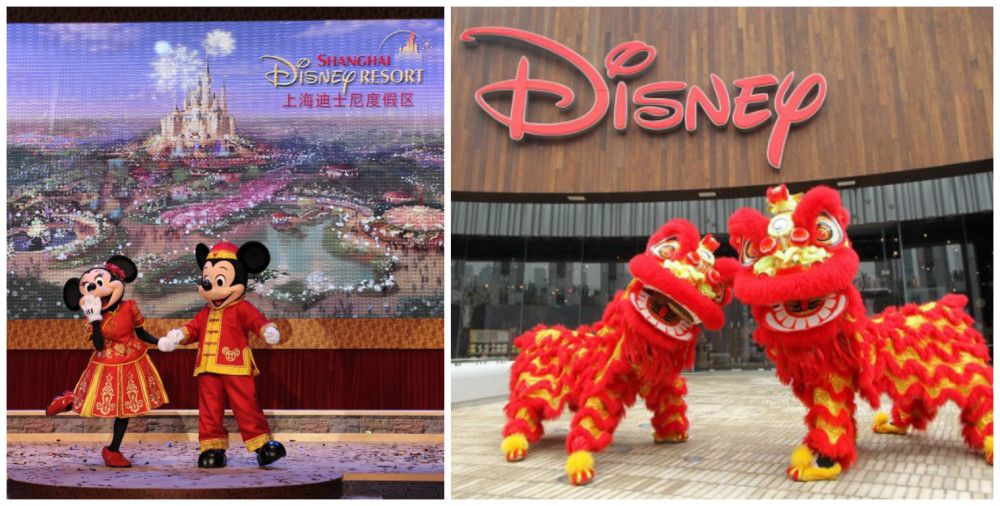 So, how does the Park look like? In addition to Disneyland, the 963-acre Disney Shanghai Resort features two resort hotels, a shopping and entertainment district, a 98-acre park, and a 1,200 seat Broadway-style theater featuring the first production of The Lion King in Mandarin.
"Shanghai Disney resort will be a one-of-a-kind, world-class destination that is authentically Disney and distinctly Chinese," Disney chairman and chief executive officer Robert Iger said in a statement. "The resort reflects Disney's legendary storytelling along with China's rich culture, and showcases some of the most creative and innovative experiences we've ever created."
While Shanghai Disneyland feels familiar in its layout to anyone who has visited another Disney park, it features several attractions that are unique to China. Guests at Disneyland Shanghai are indeed the first to ride TRON Lightcycle Power Run, a coaster-style ride where guests board two-wheeled lightcycles, as well as to visit Treasure Cove, the first pirate-themed land at a Disney park. Disney characters wear Chinese silk jackets, Jack Sparrow, legendary figure in Pirates of the Caribbean, speaks Chinese, and restaurants are in Chinese style (70% of the food is Chinese).
Moreover, Disney says the park's Wandering Moon Teahouse, modeled on a building in Eastern China, is the only Chinese-style structure in any of its parks.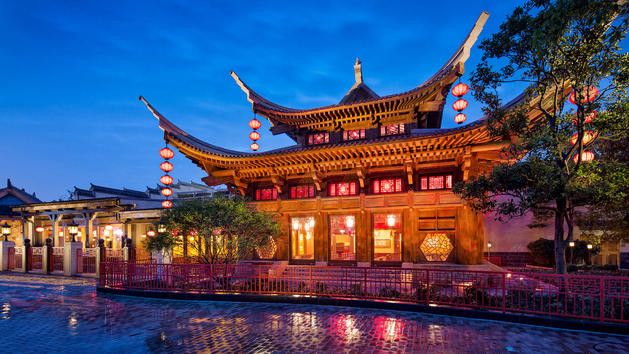 The Wandering Moon Teahouse, sponsored by Chinese brand Master Kong Credit
Disney also created a "Garden of the Twelve Friends" using characters such as Remy from "Ratatouille" and Tigger from "Winnie the Pooh" as animals of the Chinese Zodiac.
The park's centerpiece, the Enchanted Storybook Castle, is the tallest Disney park castle and features a golden peony, once considered the national flower of China, on its tallest finial. The resort will also host special celebrations during Chinese holidays and festivals, such as Chinese New Year.
Shanghai Disney store can be identified from the sky via the iconic Mickey Mouse logo
Disney is one of the most beloved international brands in China. No wonder that popular companies have been gearing up for the Disneyland Shanghai opening for months.
Shanghai Disneyland will be the only Disney Park on the planet to serve Pepsi, as all the rest have been serving nothing but Coca Cola for decades. PepsiCo's Asia research and development center in Shanghai came up with new offerings for the resort, including five new beverage flavors.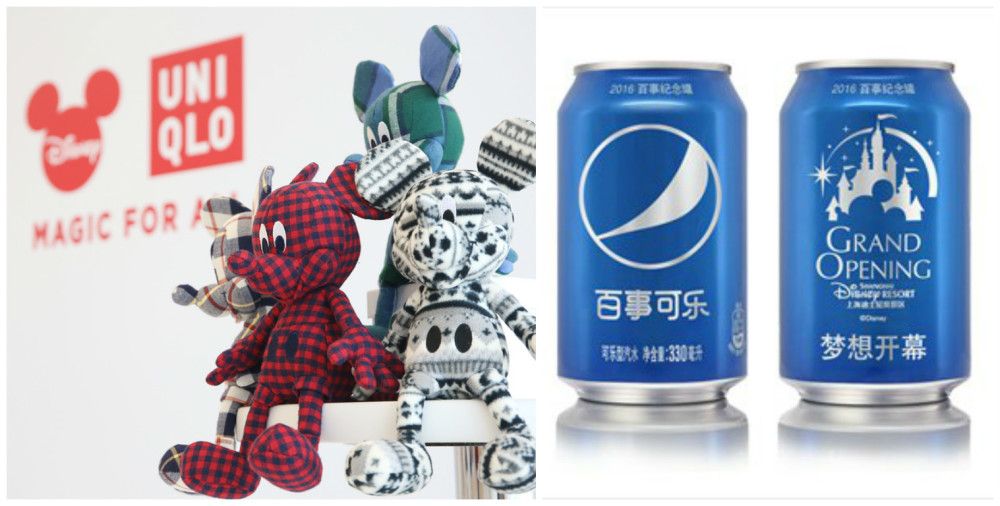 What is more, at Uniqlo's flagship store in Shanghai, the entire fifth floor is devoted to Disney T-shirts and other merchandise from its "Magic for All" line. For Disney, Uniqlo's reach will help push its brand to Chinese consumers beyond Shanghai.
Analysts expect Shanghai Disneyland to become the world's most-visited theme park, attracting at least 15 million and up to 50 million guests a year.
Sources:
http://www.alumind.com/article/no-mickey-mouse-project-in-shanghai/
http://www.chinapost.com.tw/china/business/2016/06/17/469585/Distinctly-Chinese.htm
http://adage.com/article/cmo-strategy/pepsi-chevrolet-uniqlo-a-boost-disney-partnerships-china/304533/
https://www.linkedin.com/pulse/shanghai-disneyland-open-race-become-disney-china-has-jeffrey-towson?trk=hp-feed-article-title-comment
Read more Swedbrand blog posts at swedbrand.com/blog, or visit our website at swedbrand.com.
Written by
Alessandra Ruggeri
Liudmila Pape
https://www.swedbrand-group.com/wp-content/uploads/2016/10/ihf18auo8neyvczibtue.jpg
319
454
Vanessa Mueller
https://www.swedbrand-group.com/wp-content/uploads/2016/07/swedbrand-group-logo-small.png
Vanessa Mueller
2016-08-26 07:34:53
2016-10-07 02:23:37
HOW CHINESE IS SHANGHAI'S DISNEYLAND?