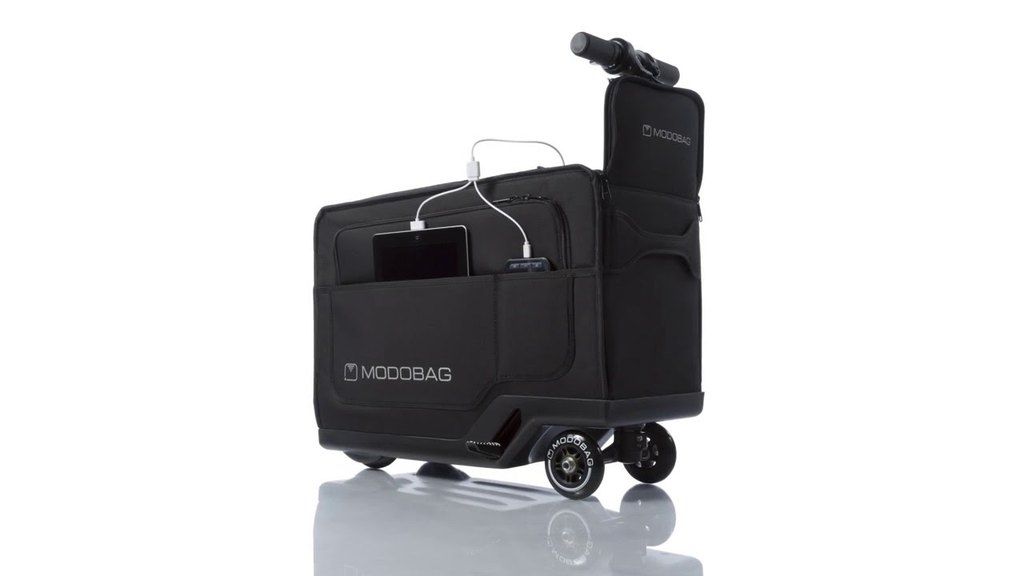 With Modobag, travelling will never be the same again! According to many, this invention will indeed change the way the world travels.
Next time you need to take a plane, instead of lugging around your heavy suitcase, let your luggage do the work of carrying you around. The Modobag is a revolutionary piece of motorized carry-on luggage: with 2000 cubic inches (=50 cubic metres) of packing space, it can accommodate riders up to 260 lbs.
Chicago entrepreneur and avid traveler Kevin O'Donnell invented this innovative product. The idea struck him when he was pulling the kids on his suitcase at the airport, and wondered, "Why can't we ride our luggage and get to where we're going faster with less stress?"
He worked together with his motorcyclist friend, Boyd Bruner, to bring to life the vision of making travelling more functional and fun. And after obtaining the TSA (Transportation Security Administration) and FAA (Federal Aviation Administration) approval, Modobag was born.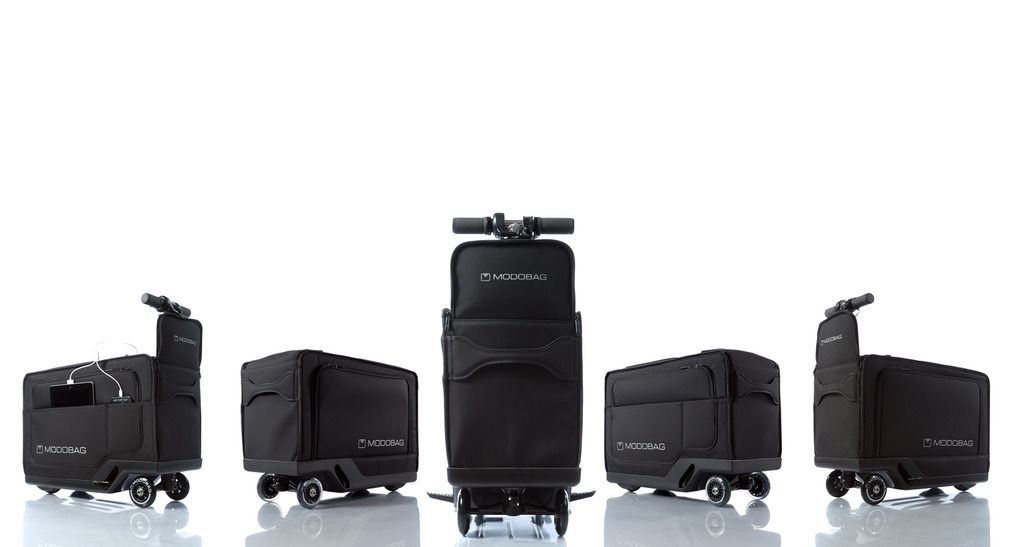 The bag can travel up to 6 miles on a single charge, at 8 miles an hour. It is lightweight, and can easily convert from motor to pull-behind use. It comes with dual USB charging ports for your electronics and optional GPRS-GSM tracking. The black, boxy luggage also offers side pockets for easy access to all of your charging electronics, and a cushioned seat for your six-mile ride. And, at 19 lbs. when empty, you'll definitely ride this bad boy around rather than carrying it.
So not only is Modobag incredibly functional and efficient, it is also fun!
According to the founder, once Modobag becomes your travel companion life will never be the same. Now you'll have shorter commutes, always know where your belongings are, never miss tight connections, always have a fully charged phone, and never sweat catching a connecting flight! Modobag can resolve all of these everyday scheduling speed bumps that lead to a horrible travel experience and turn your day into a smooth ride.
Click on the video below to see how the Modobag works:
https://www.youtube.com/watch?v=ABV610n-Rxs
Sources:
http://modobag.com/ourstory.html
http://www.cntraveler.com/stories/2016-07-21/modobag-worlds-first-rideable-motorized-luggage-is-now-here?mbid=social_twitter
https://www.swedbrand-group.com/wp-content/uploads/2016/10/Modobag3.jpg
683
1024
Alessandra Ruggeri
https://www.swedbrand-group.com/wp-content/uploads/2016/07/swedbrand-group-logo-small.png
Alessandra Ruggeri
2016-09-23 07:59:25
2016-10-07 02:03:41
MODOBAG: WORLD'S FIRST RIDEABLE, MOTORIZED LUGGAGE