It was a pleasure for Swedbrand to take part in the
ProWein 2016, the leading international fair for wines and spirits in Düsseldorf, Germany.
The ProWein's variety is unrivaled in the world with exhibitors from 59 nations and visitors from 126 different countries. At
ProWein you can share a glass of wine with the owner of a tiny, organic, family owned winery and when you cross the aisle you are able to discuss how the state of the American railroads affects the bulk shipping of wine across the country. It is a place of contrasts; stories range from the passion of the winemaker for the individual plants to the cleverness of the businessman searching for profits in a low margin bulk industry. Whatever you want to learn about wine, you will find the answers at ProWein.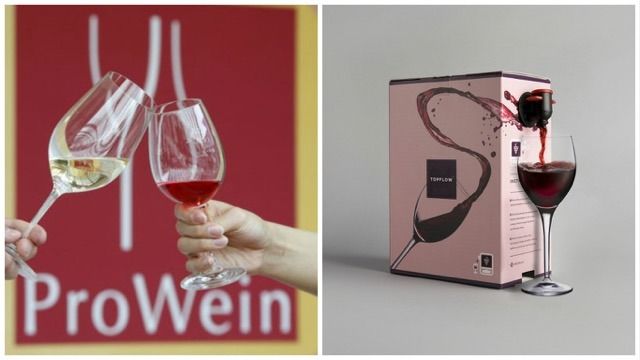 Our purpose at ProWein was to introduce our latest innovation TopFlow – a bag-in-box that flows from the top. We aim to help the wineries to upgrade the wine consumption experience of their customers because small details do count and we are passionate about providing our contribution to the wine industry.
Fortunately our expectations were met and ProWein was very successful for Swedbrand. Wineries showed great interest and excitement for our innovation. We had productive meetings and TopFlow generated many laughs and inquiries when people tried to guess how we solved the issue of dispensing wine from the top of a bag-in-box container. At one point, we even joked about having invented a box that simulated outer space conditions of zero gravity. After all the laughs, everyone agreed that Carlos de la Fe's invention was very smart, beautifully simple and destined for success.
We were also reminded of the incredible level of competition and variety in the world of wine and beverages. It made the relevance of both TopFlow and TouchingLight clear to our prospects and us, as we could feel the importance of differentiating an offer and becoming more visible in a crowded market.
BIB ("bag-in-box") has not really been welcomed as a suitable packaging solution for premium products in most markets except the Nordics yet. This made us feel like the ugly ducklings when walking around with our box. That feeling quickly disappeared after meeting all those excited clients that loved our innovation and appreciated its benefits for niche markets. Suddenly we turned into the swan and now we are looking forward to discovering new potentials.
https://www.swedbrand-group.com/wp-content/uploads/2016/03/timthumb-4.jpg
222
360
Vanessa Mueller
https://www.swedbrand-group.com/wp-content/uploads/2016/07/swedbrand-group-logo-small.png
Vanessa Mueller
2016-03-24 04:29:55
2016-08-06 07:08:16
Swedbrand at ProWein introducing TopFlow!